5 most
USEFUL
EXCITING
NEEDED
TIPS FOR STARTING YOUR CAREER ABROAD
Moving abroad may be one of life's most exciting challenges. Even though buying a one-way ticket is a highly romantic idea, if you don't do the groundwork you may set yourself up for an uphill battle. Many people decide to move abroad because this is their lifestyle or they are looking for an opportunity to accelerate their career.
We assembled 5 most important tips which aim to help you to prepare for your adventure.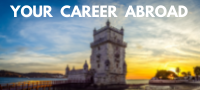 Be clear about why you want to start your career abroad
You must be clear whether you want to start a career abroad because this is your lifestyle or you want to advance your career. If you like the idea of working during the day and taking a well-earned rest afterwards, then living in Athens or Lisbon may be ideal for you! These places are well known for their vibrant nightlife as well as beautiful beaches and landscape. 
Do not attach yourself to specific location
If you are primarily interested in advancing your career, choosing a less-known location may be an asset because it gives you a chance to be a big fish in a small pond! While deciding to work in a very well-established location such as Dubai or London, you are more likely to encounter many competitors. Working in less-selected countries also gives you the opportunity to further develop your skills since you may be working in smaller teams and you may be assigned with more tasks which require creativity and independence.
Therefore, do not attach yourself to the specific location and allow yourself to look for the places where you can get ahead. 
Living abroad may be overwhelming during the very first few weeks. You may be in a position when you experience culture shock, miss your family and friends and do not know the city. Joining groups on Facebook, LinkedIn or on other platforms may be a good way to start! Remember that people there are on the same boat as you and are looking for partners in adventure abroad. Don't be scared to reach out to locals who know the places and culture inside out and may help you to acclimatize. 
Determine the cost of living
An important question to be asked here is: how much would you need to earn to get by, i.e. pay the rent and essentials such as food and public transportations? Lisbon and Athens are known for the lowest costs of living in Europes. And even though the salary tends to be lower than in Germany or Austria, it will get you more!  There are many websites out there which specifically state how much you will spend on food, rent, gym membership or bus tickets. 
Think about transferable skills
Transferable skills are always an asset in your CV because they may help you to land a job across a variety of professions. If you plan on working abroad for a few years and then come back to your homeland, make sure you apply for the jobs which equip you with the skills which you may later use in the new positions. Hence, be careful with the professions such as law and compliance, because they tend to be specific from country to country. On the other hand, jobs in customer support and sales not only arm you technical skills, but allow you for overall development of your skills in problem-solving, critical thinking, effective communication and team-collaboration. 
At Real Recruitment Solutions we assist our candidates during every step of their decision to relocate abroad. We will help you before and after departure. If you have any questions, do not hesitate to get in touch with us! We are here for you.