Fix-term contract, Fixed-term contract
The Company.

You want to start your career with Technical Support? Do you like online new technologies and troubleshooting?
If you are motivated, creative and open-minded, we might have the perfect job for you!
Start your career in technical support in an innovative and international company.
Make a new international experience in sunny Greece.
The Job.
Looking for a job where you can support customers with troubleshooting related to one of the world's most known software? Your main tasks are:
– Provide optimal advice regarding different queries of the clients
– Guiding the client in solving the technical issues and educate them about the root cause
– Supporting clients in setting up the devices
– Evaluation of the customers' needs from probing and insight investigation
– Achieve strong customer satisfaction with a focus on quality and results
The Profile of the candidate.
– You have a mother tongue level in Czech + a good English level (at least B2).
– You have completed secondary school or already have a Bachelor-degree.
– You already have experience in customer service or sales.
– You are a strategic thinker.
– You strive for excellence and professionalism.
– You have excellent communication and listening skills.
– You are a real team player and willing to work with many other nationalities.
The Offer.
– Contract type: initial contract of 3 months with possibility of extension
– Salary:
Base salary: 1300 euro brutto
Performance-based bonus (proportionate to your KPI): up to 250 euros
– Working hours: Mon – Sun 9 to 19h (40h/week)
– Training: 3 weeks (fully paid, i.e. counts as a part of your salary)
– Salary conditions – 2 options:
– For international candidates:
Free flight tickets from any European city to Athens/Thessaloniki
Pick up from the airport
Free two weeks stay in the hotel
Annual return ticket to your home country (within the EU)
Help with paperwork, opening a bank account, etc. on your arrival
Assistance in finding the accommodation
– Free Greek lessons, cooking courses, sports activities and social events organized by the company.
– Real career opportunities in various career paths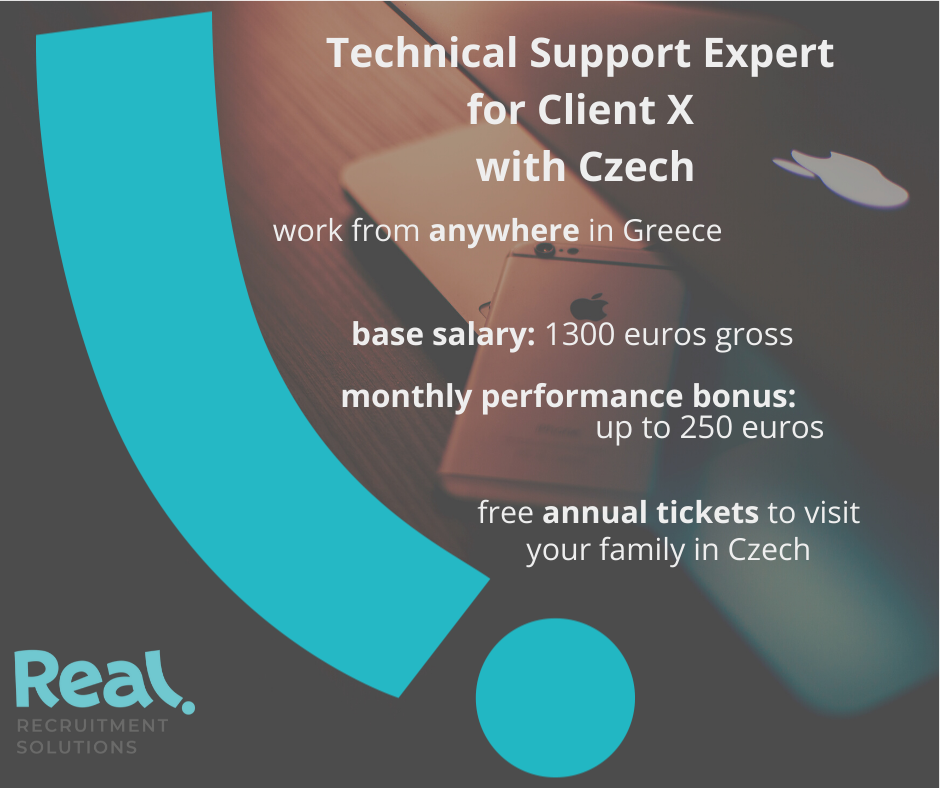 Hi, my name is Martyna and I will take care of your recruitment process. Feel free to get in touch with me via email (martyna@realrecsolutions.com) or call me: 0048 533 051 435.